Family Portrait- Parents & Children
GRP-Family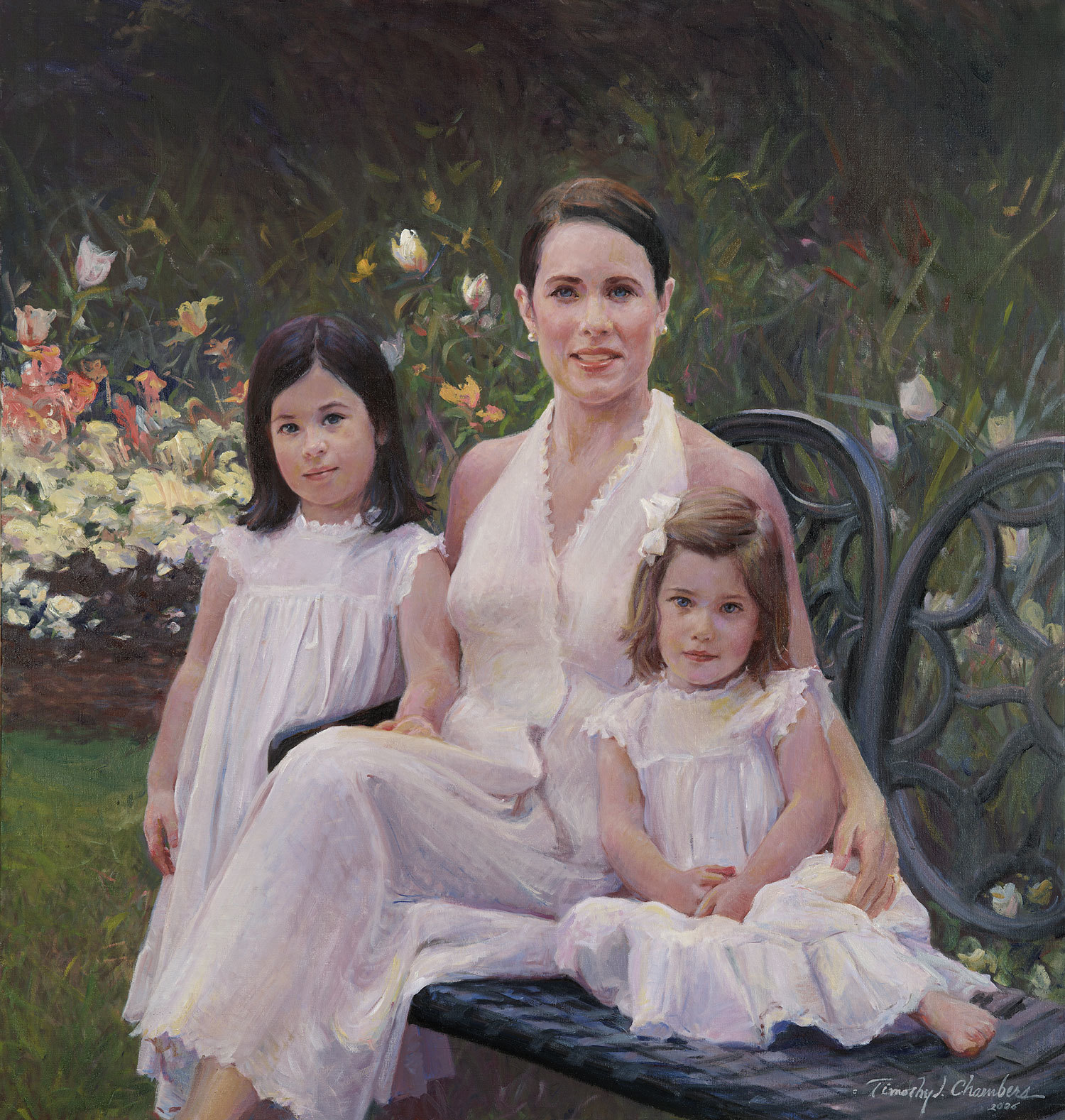 "To capture a person on canvas is an amazing feat," says Timothy Chambers, "but to capture a relationship between people is even more astounding."
Indeed, it takes a rare talent to capture the way two more people relate to one another and somehow lay it down on canvas. It takes more than the visual; the artist must be not only a master of the brush, but keenly observant, able to have his subjects be completely at ease if the unseen is to become visible. Painter Timothy Chambers possesses these attributes in abundance to create stunning, intimate portraits of your family. If there is an artist who can recognize the dynamics that exist within a family, it is Timothy. He has a beautiful ability to listen, watch, and gather the clues that reveal the subtle nuances that give each family their unique DNA. He knows how to take the individual elements and position each person within a composition that readily speaks your family's name. Friends who see your portrait will exclaim, "I can't believe how amazingly, so beautifully, you all are captured on one canvas. Wow."
Browse the samples of family portraits here and you'll see what we're talking about. Timothy is amazing. He is limited to a select number of portraits per year, so do not waste time capturing your family's dynamic on canvas for a stunning heirloom portrait that will surely become your most prized possession.
Tim guarantees that you will be thrilled with your portrait. Contact his studio (click here) with questions, or find more details at timothychambers.com.
Prices are calculated by the format (Three-quarter or Full-figure fee) and number of figures. The base price is for two figures. Additional figures in the same portrait are each 50% of the original figure fee. Pets are 20% of the original figure fee. Price listed on this page is for Three-quarter Figure format with two people.
Average dimensions start at approximately 40x42", but vary depending upon composition and where your portrait will be displayed.

You have the option of having your portrait painted in oil or pastel; all work done using archival-quality materials.
Commissioned price includes a custom hand-made gold-leaf frame that brings out the best of your portrait. Select styles are available to choose from.
To own your own heirloom portrait, please contact the studio (click here). More information at timothychambers.com
Number of Figures
Three Three-quarter Figures (40000) Four Three-quarter Figures (60000) Five Three-quarter Figures (80000) Two Full Figures (20000) Three Full Figures (60000) Four Full Figures (80000)