Children's Portrait, Head & Shoulders
HS-Child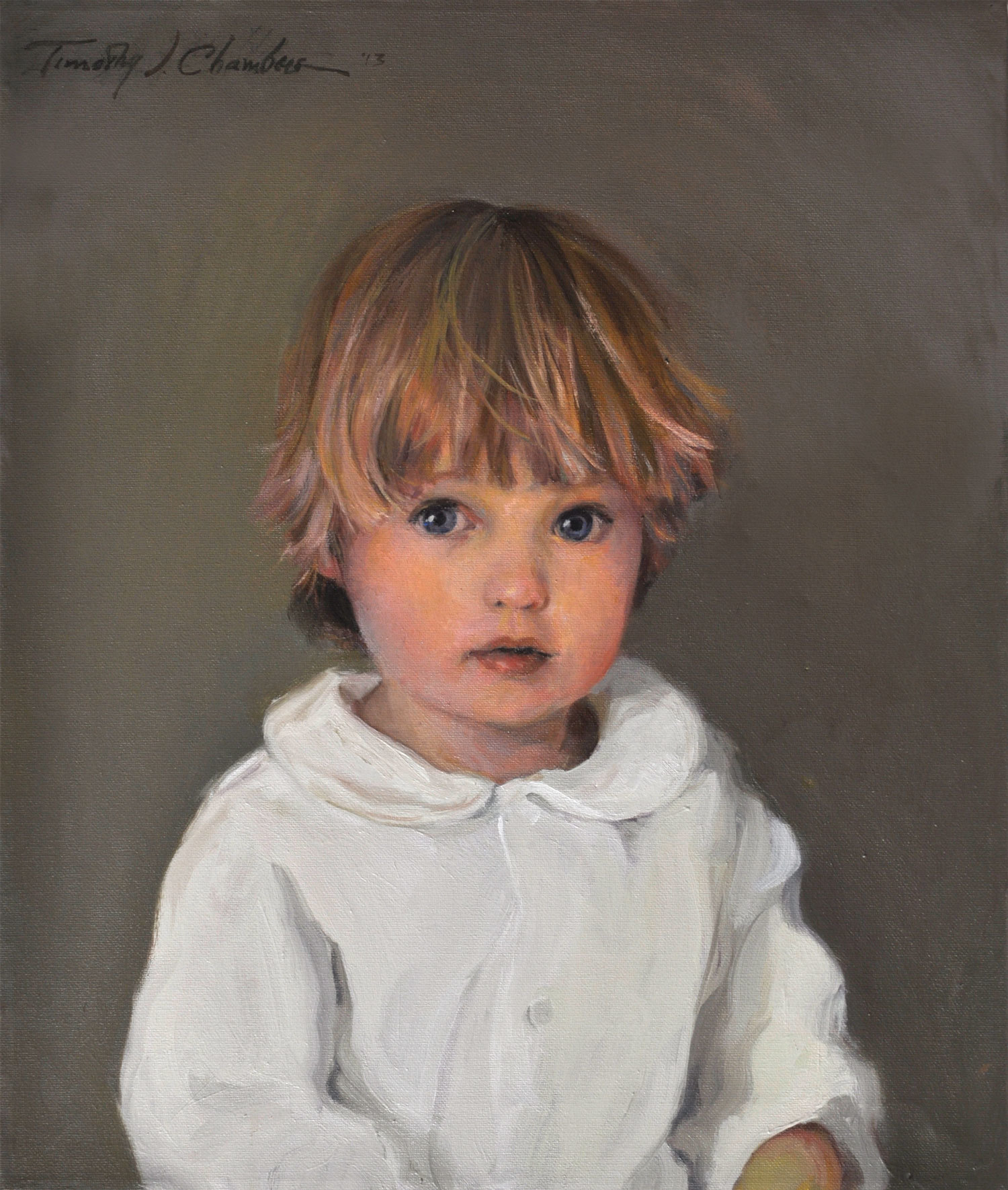 When it comes to cherishing your children, there's nothing in the world that captures the essence of your child like a portrait by Timothy Chambers. One of the reasons Tim is one of the world's most gifted artists is that he fully engages his heart into his work. For children's portraits, this means connecting with the parent, for no one knows their child more. Tim knows that his portraits of children are only as good as his connection with you, the parent, to fully understand the depth and richness that you see your child's beauty. Tim devotes time with you to ensure that you feel he gets your child, understand who he or she is from your view. Then he puts his magic to work, creating a portrait that you will exclaim, "Oh my, you've captured my baby," -no matter how old your baby may be.
It is because Tim knows that there is more than meets the eye that his portraits of children are among the most beautiful, intimate, spiritual portraits you'll ever lay eyes upon. Tim reveals the character and dignity that is in every child.
When you commission a portrait by Timothy Chambers, you get personal attention every step of the way, from the first conversation through the sitting and the painting of your personal masterpiece. He works and paints with joy, and builds a wonderful rapport with his young portrait subjects. Children laugh and smile and end up calling "Mr. Tim" their new friend. Parents are invited to be a vital part of the sitting.
Timothy paints his Head & Shoulders Portraits life size, unless requested otherwise, and include the full body except for lower legs and feet. Average dimensions for a single child are approximately 20x16", but can vary depending upon composition.

Commissioned price includes a gold-leaf frame custom made to beautifully complement your portrait. Select styles are available to choose from.

To own your own heirloom portrait, please contact the studio (click here). More information can be found at timothychambers.com
Tim guarantees that you will be thrilled with your portrait. Contact his studio (click here) with questions, or find more details at timothychambers.com.

Delivery time is approximately 6-12 months from sitting date. If a shorter delivery time is needed for a special event, please contact the studio.